Vinyl Linoleum Flooring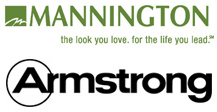 Vinyl linoleum flooring is a popular choice for kitchens and bathrooms because of its versatility, moisture resistance and good looks. Perfect for active households, vinyl flooring will stand up to heavy foot traffic, and it's resistant to fading, stains, and dents. In addition to being super durable, vinyl flooring is available in a variety of colors and styles. As experts at keeping your floors clean, M&R is also an excellent resource when it comes time to buy new flooring. Homeowners who choose M&R can expect:
Convenient shopping – Browse our beautiful showroom, or schedule an in-home showing.
Wide selection – With a huge array of different styles and manufacturers, we can help you find the vinyl flooring that is right for you.
Expertise – Nobody knows floors like M&R . Our experts are standing by to guide you through consultation, selection, installation, and maintenance.
What is Vinyl Flooring?
So what is vinyl flooring exactly? Vinyl is a manufactured product that is available in sheets, planks and tiles. Vinyl flooring is available in many colors and textures – it can even mimic the look of hardwood floors. Vinyl flooring is similar to carpet in that it has some give underfoot and is noted for being comfortable to walk on.
Advantages of Vinyl Floors
Vinyl flooring is an excellent option for active households as a suitable alternative to other types of flooring. Beautiful, low maintenance, and durable, vinyl linoleum flooring comes with a long list of benefits, it's easy to see why so many people choose vinyl floors.
---
Cost
Vinyl flooring provides much of the warmth and beauty of a natural floor at a fraction of the cost.
---
Durability
Vinyl is tougher than some natural flooring and it will not scuff or scratch. Want to enjoy the look of hardwood floor in a high-traffic area? Vinyl can be manufactured to mimic the look of hardwood flooring and withstand frequent abuse while still maintain its appearance.
---
Comfort
Vinyl flooring has a slight "give" and is more comfortable to walk on than most hardwood or tile flooring.
---
Where to Use Vinyl Flooring
Kitchens and Baths – When durability is important, rely on vinyl flooring to provide the same beauty as other natural floors, with a tougher resistance to moisture, heavy traffic, spills and scratches.
With Pets and Children – Enjoy the pitter-patter of little feet on your vinyl flooring without any worry about scratches or scuffs. Vinyl flooring is built to last and can stand up to heavy traffic, spills, and accidents from pets and children.