Vinyl Floor Installation
Vinyl flooring is a great, affordable choice for any home and you can count on having a durable and beautiful floor for years to come. Unlike other natural flooring, vinyl won't buckle, warp, shift or dent. It is also more scratch and scuff resistant, making it a smart choice for active households.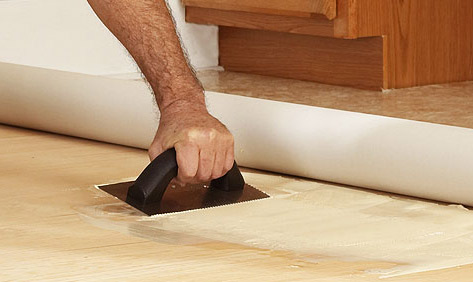 Let the experts at M&R help you select your vinyl flooring and plan your installation. We understand how important it is that your new vinyl flooring is installed properly and in a timely manner. You can count on our trained technicians to ensure that your new floor is professionally installed.
M&R Vinyl Installation is
Quick
High Quality
Low Impact
Planning the Installation
First you need to select what the of vinyl floor that is right for your home. You can visit our large showroom or arrange for an in-home consultation. We will discuss the installation process with you and develop an installation plan for your home.
Installation Method
Vinyl flooring can be installed in one of three ways, depending on manufacturer and style: full spread, perimeter adhered or floating. Full spread means the vinyl is bonded to the sub floor with adhesive spread over the entire sub floor. Perimeter adhered is an installation method in which adhesive is applied only to the perimeter of the flooring and at the seams. Floating is a type of installation in which the vinyl flooring is not attached to the sub floor, but installed over a thin pad. Your new vinyl floor will be professionally installed using one of these methods.
Installation Steps & Considerations
All of the furniture, rugs and plants will need to be moved out of the areas where installation will take place. You can plan for installation by moving all small furniture, plants, and knick-knacks. Dalworth can assist with moving the larger furniture.
Before your new vinyl floor is installed, we will remove your old flooring, so that just the sub floor is left.
Depending on the condition of your sub floor, it may need to be repaired or replaced. If it's in good shape, the sub floor will be thoroughly cleaned and prepped before installation.
In some cases, trim may be also be removed before floor installation. Dalworth will discuss your options during installation planning.
Our technicians are trained experts and will quickly install your new vinyl floors properly and efficiently. On the day of installation, make sure someone is home in case we have any questions. Our installation process can use tools and techniques that can be a danger to little ones and pets, make sure that they are accounted for during the installation.
The vinyl floor installation is not done until Dalworth completes a thorough cleanup after the job. Dalworth can also arrange for the removal and disposal of your old flooring.
After your vinyl flooring has been installed, it's time to move in and enjoy your new flooring. In order to protect your investment, be sure to read our guidelines for vinyl floor care.