Hardwood Floor Installation
After you've selected your new hardwood flooring from our beautiful showroom or with our free in-home consultation, it's time to begin to plan the installation. We understand how important it is to have your new hardwood flooring installed properly and in a timely manner. You can count on our trained technicians to ensure that your new floor is professionally installed.
M&R hardwood flooring installation is:
Quick – At M&R you can be assured that our technicians will install your new hardwood floors as efficiently as possible so that your household can get back to normal as soon as possible.
High Quality – Our certified craftsmen and highly trained technicians won't rest until you're satisfied with your new floors.
Pre-Installation Steps
1. Select New Wood Floor & Develop Installation Plan
First you need to select the style of hardwood floor that is right for your home. You can visit our flooring showroom or arrange for an in-home consultation. We will discuss the installation process with you and develop an installation plan for your home.
2. Selecting an Installation Method
When it comes to installing your hardwood floor, there are a few different methods to choose from. Depending on whether your floors are made from solid, or engineered wood and what room they're being installed in (basement or master bedroom?) will determine what type of installation method is best for you.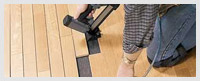 Nail Down
The nail down method is very popular and typically used for solid floors.
With this method, technicians use a nail and mallet to attach the wood
floor to the sub floor.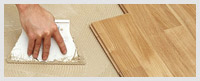 Glue Down
The glue down method is very effective, but not recommended for all wood floors. Adhesive is applied with a trowel to the sub floor, and the hardwood
flooring is placed on top. The glue down method is not recommended for solid floors, but is a good option for engineered and parquet floors.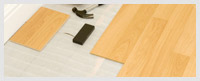 Floating
The floating method is a cleaner method of installation and good for engineered floors. This quick and clean installation process does not
require the floor to be fastened to the sub floor. Instead, a thin pad is placed between the hardwood floor and sub floor and wood glue binds the tongue and groove of each plank together.
Installation
Walkthrough & Considerations
Relocating Furniture – All of the furniture, rugs and plants will need to be moved out of the areas where installation will take place. You can plan for installation by moving all small furniture, plants, and knick-knacks. M&R can assist with moving the larger furniture.
Removing the Old Flooring – Before your new hardwood floor is installed, we will remove your old flooring, so that just the sub floor is left.
Preparing the Sub Flooring – Depending on the condition of your sub floor, it may need to be repaired or replaced. If it's in good shape, the sub floor will be thoroughly cleaned and prepped before installation.
Removing Trim – In some cases, trim may be also be removed before floor installation. M&R will discuss your options during installation planning.
Installation – Our technicians are trained experts and will quickly install your new hardwood floors properly and efficiently. On the day of installation, make sure someone is home in case we have any questions. Our installation process can use tools and techniques that can be a danger to little ones and pets, make sure that they are accounted for during the installation.
Cleanup – Hardwood flooring installation is not done until M&R completes a thorough cleanup after the job. M&R can also arrange for the removal and disposal of your old flooring.
Move in – After your hardwood flooring has been installed, it's time to move in and enjoy your new flooring. In order to protect your investment, be sure to read our guidelines for hardwood floor care.